Tủ an toàn sinh học BSC-IIB2 (Loại 00)
Tủ an toàn sinh học BSC-IIB2 (Loại 00)
Tủ an toàn sinh học BSC-IIB2 (Loại 00) BSC-IIB2 loai 00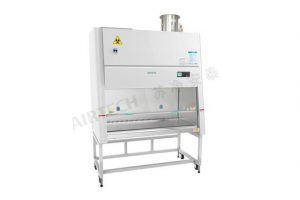 ​BSC-1000IIB2, BSC-1300IIB2, BSC-1600IIB2
Tủ cấy an toàn dòng BSC-IIB2 (Loại 00)
Xuất xứ: Airtech
1. Phù hợp với quy định cấp II, Tủ an toàn sinh học Loại A2 tuân theo YY0569 trong SFDA của Trung Quốc hoặc NSF / ANSI49 của Mỹ
2. Luồng khí thổi đứng với 100% khí thải thoát ra ngoài hoặc qua hệ thống thoát khí.
3. HEPA và ULPA không bị rò rỉ (Bằng sáng chế số: ZL200820109130.9) trong hệ thống cung cấp không khí, đảm bảo độ sạch theo chuẩn ISO Class 5 (Class 100) hoặc ISO Class 4 (Class 10).
4. Màn hình hiển thị nghiên 10 độ tạo cảm giác nhìn thoải mái.
5. Giá lục giác có thể tháo dỡ được để giảm bớt sự mệt mỏi khi làm việc và giúp vận chuyển dễ dàng.
6. Chế độ trả lại không khí không bị tắc nghẽn ở vùng phía trước (Bằng sáng chế số ZL200520140353.8).
7. Các đường ống cấp và xả khí sử dụng bộ điều khiển van PID cùng với bộ truyền động BELIMO giúp giảm hiệu quả khí từ bên ngoài.
8. Chế độ chiếu sáng và khử trùng liên động với nhau.
9. Van xả và ổ cắm dự phòng an toàn, không rò rỉ
10. Hệ thống cung cấp tự động thông minh đảm bảo sự thay đổi thể tích không khí dưới 10% khi độ bẩn của bộ lọc tăng 50% và tăng độ an toàn.
11. Phát hiện rò rỉ trong tủ, không rò rỉ khí ở 500Pa.
12. Phát hiện rò rỉ trong HEPA / ULPA, tỷ lệ rò rỉ là <= 0,01% (quét), <= 0,005% (không quét).
Friendly Control Panel

◆ Color LED screen, show the air velocity, time, fan station, HEPA filter life and alarm in real time.
Safe and Reliable, Energy-Efficient

◆ DC fan and LED light make the operation power consumption save 30%.

◆ Intelligent auto-supply system of imported blower ensures the change of air volume less than 10% when the resistance of filter increases 50% and enhance safety.

◆ The alarm system for safe operation height is interlocked with light. At the same time light is

Interlocked with sterilizing.

◆ Leak detection in cabinet, no leakage at 500Pa.

◆ UV light with set timer, safer and high efficiency.
Humanized design

◆ 10°sloped front make it comfortable to operator.

◆ Negative pressure and double layers chamber around ensure non-leakage, non-pollution.

Demountable circular-arc armrest can alleviate working tiredness and make it easy to transport.

◆ Front window adopts hanging lifting system (Imported from Japan) and more than 5mm thickness security glass with arbitrary

positioning, high stability and convenient to sterilization when it closed. (Patent No.: ZL97235425.5)

◆ Front window can be cleaned all-over, solving the problem which front window can't be cleaned

inside

◆ Moveable working table with handle and support make it easier to clean collecting tank.

◆ There are two anti-splash spare sockets and four service port in the cabinet.

◆ Movable stainless steel worktable 4 liter capacity stainless steel collecting tank with below down

valve, easy to collect water, cleaning and disinfection.

◆ Non-obstructive air return mode in the front suction channel (Patent No.: ZL200520140353.8).

◆ The adjustable leveling foot is without exposure thread.
ULPA filters

◆ USA HV ULPA Filter Medium, provide 99.9995% typical efficiency for particle size over 0.12

microns, and the materials is glass fiber.
◆ A minimum ISO 4 air quality in the work area
◆ Patent of non leakage
◆ Every ULPA filters will be tested to ensure non leakage.
ECO mode and power off memory function

◆ You need not to turn off BSC when stop experiment. You can close front window and BSC will turn

to ECO mode to ensure cleanliness in working area. If opening front window, BSC will turn to normal mode immediately.

◆ If losing power unexpected, BSC will return to the station which before losing power when regain

power. This will ensure the safety of operator.
Model/Item
BSC-1004IIB2
BSC-1304IIB2
BSC-1604IIB2
BSC-1804IIB2
Nominal Size
1 meter(3′)
1.3meter(4′)
1.6meter(5′)
1.8meter(6′)
Filtration Efficiency
ULPA: ≥99.9995%, @0.12μm
Downflow Velocity
0.35 m/s(68.88fpm)
Inflow Velocity
0.55m/s(108.24fpm)
Noise
58~65 dB(A)
Vibration
≤5 μm(center of tabletop)
Power Supply
AC220V,1φ,50Hz
Opening Height
200 mm
Personnel Protection

A. Total colony in impaction sampler ≤10CFU./time

B. Total colony in impaction sampler ≤5CFU./time

Product Protection
Total colony in culture dish ≤5CFU./time
Cross-contamination Protection
Total colony in culture dish ≤2CFU./time
Max Consumption(with spare socket)
1.65 kVA
1.75 kVA
1.75 kVA
1.75 kVA
Rated Power(without spare socket)
0.33 kVA
0.43 kVA
0.43 kVA
0.43 kVA
Weight
270 kg
310 kg
370 kg
410 kg

Work Dimension

(W1XD1XH1)

1004*630*630 mm

(39.5"x24.8"x24.8")

1304*630*630 mm

(51.3"x24.8"x24.8")

1604*630*630 mm

(63.1"x24.8"x24.8")

1804*630*630 mm

(71.0"x24.8"x24.8")

Overall Dimension

(WXDXH)

1200*795*2050 mm

(47.2"x31.3"x80.7")

1500*795*2050 mm

(59.1"x31.3"x80.7")

1800*795*2050 mm

(70.9"x31.3"x80.7")

2000*795*2050 mm

(78.7"x31.3"x80.7")

Size and Qty. of

Light

LED 24.5 w  x ①
LED 31 w x ①
LED 36 w x ①
LED 36 w x ①

Size and Qty. of

UV Light

18 w  x ①
30 w  x ①
36 w  x ①
36 w  x ①
Lumin.
≥900 Lx
Cabinet Materials
High-grade steel and lacquered in ivory
Working Area Materials
SS304 fully finished
Air Direction
Top out
Plug Style
Chinese Type(AC 250V/10A)
Qty. of Sapre Socket
Chinese Type(AC 250V/3A) 2 units